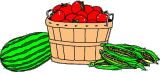 Even in the breadbasket of Salinas Valley, there is hunger. Food banks in the area estimate that one in four families is short of food some part of the year. One in seven families gets some kind of food assistance.
The gleaners are trying to help make a difference.
Hunger Facts & Factoids
Some tidbits and links on hunger in Santa Cruz, Monterey, and San Benito Counties:
59% of Santa Cruz County seniors living alone (and 21% of elder couples) cannot meet their basic food, housing, and health care needs. In Monterey and San Benito Counties, the figures are 48% and 27%. These figures are based on 2007 research, before the economic collapse of 2008.
Read the story in the Santa Cruz Sentinel: Older Californians At Risk
Read the entire study or a policy brief of the study: UCLA Senior Study.
The Second Harvest Food Bank serving the tri-county area estimates a 30% increase in seniors and working families needing food aid in 2009.
Related Links
Food security (Wikipedia)
Central Valley Disconnect: Rich Land, Poor Nutrition: Kitchen Sisters NPR story on food, hunger, poverty, and eating in the Central Valley
World Context
A new United Nations report estimates that for the first time, over 1 billion people are going hungry every day.







Partially Funded by the California Council for the Humanities, UC Santa Cruz, and INTA - TrainingWeal.