Welcome!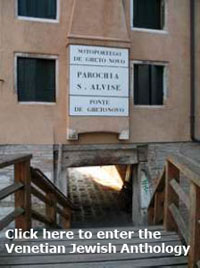 The Venetian Jewish Anthology is a scholarly resource for teaching and research that explores the cultural, intellectual, and historic experience of Venetian Jewry. The Anthology carries forward the work of an institute on "Venice, the Jews, and Italian Culture: Historical Eras and Cultural Representations" that took place June 19-July 21, 2006. This five-week interdisciplinary institute was funded by the National Endowment for the Humanities and culminated in a three-day conference on "Venice, the Jews, and Italian Culture," sponsored by the Gladys Krieble Delmas Foundation, and attended by twenty-eight scholars representing universities in the United States, Canada, and Italy.
Our primary focus in both the conference and the Institute was the Ghetto of Venice, which gave its name to all such subsequent ethnic enclosures. We explored the history of the Ghetto of Venice as built environment, cultural text, and symbolic site. Together we examined various artistic materials representing Italian and Venetian Jewish life, including literary, artistic, and dramatic works. That made it possible for us to reinhabit the Ghetto through the eras of its existence. The Institute began with the Renaissance, while emphasizing the modern experience of Venetian Jewry, a paradigmatic Italian Jewish community.
Some of the materials that follow are available to the general public. The full set of materials of the Venetian Jewish Anthology are password protected and accessible in detail at present only to the Institute participants and sponsors.
We are pleased to announce that the National Endowment for the Humanities has invited us to conduct the Institute on "Venice, the Jews, and Italian Culture: Historical Eras and Cultural Representations" again next summer.
The Institute will be held in Venice from June 16 to July 18, 2008, the application deadline is March 1. College and university teachers of American undergraduate students are invited to apply. Qualified independent scholars and those employed by museums, libraries, historical societies, and other organizations may be eligible for consideration as well, provided they can effectively advance the teaching and research goals of the institute. Participants will receive a stipend from the NEH towards their expenses.
For more information, please visit the UC Santa Cruz Jewish Studies NEH webpage here.

Acknowledgments: Website conceived and designed by Miriam Shein.